Here are some tips on creating attention-getting blog post titles. I know you want more clicks, leads and sales from your blog posts!
Here's how a lot of bloggers operate…
They pour their heart and soul into the content. They rewrite. They polish. They make it perfect.
And once their masterpiece is complete, they slap any old title on it and call it good.
You know what happens?
Nothing. Nothing happens.
Because if you don't spend time creating a really good, attention-getting, compelling title, then the rest of your blog article may as well not even exist. Because if your title isn't compelling, then no one is clicking on your article… no one is reading it… and no one is taking action on the links within your article.
That's why you'll want to employ this three-step process for creating attention-getting headlines that pull people in and get them reading your content. Take a look at these tips on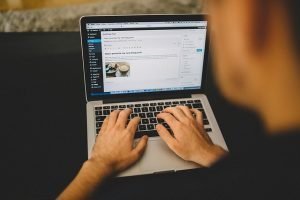 creating attention-getting blog post titles …
Step 1: Consider Your Biggest Benefits
The first thing you want to do is brainstorm all the benefits people will receive by reading your article.
At this point, don't worry about wording these benefits just right. Instead, your goal at this step is to just list as many benefits as possible.
Now here's one important distinction: you want to be sure to focus on benefits rather than features.
Features are the "parts" of your article. Benefits are what those parts do for your readers. Generally, people are more interested in benefits rather than just features. That's because it's not always clear to some people how a feature benefits them, so you need to spell it out.
For example: the feature of a weight-loss article is that it discusses macro nutrients. The benefit of this discussion is that it shows people how to eat the right combination of foods to really rev up their metabolism, which in turn helps them effortlessly burn more fat.
So the point is, comb through your article and pull out ALL the benefits.
2: Convey Benefits in an Appealing Way
Now that you've determine which of your biggest benefits to showcase in your title, the next step is to convey these benefits in an appealing way.
Let's start with some tips for creating appealing titles…
Get Specific
Your title will be more credible and believable if it's specific, especially when you're referring to any sort of numerical value.
For example, let's suppose you're sharing a strategy for how you earned an extra $1000 last month. If you're NOT specific, your title might be something like this:
"How I Earned an Extra $1000 on eBay Last Month With One Simple Trick."
Except here's the thing…
There is very little chance that you earned EXACTLY $1000… right? Instead, consider this title:
"How I Earned an Extra $1012.44 on eBay Last Month With One Simple Trick."
Boom – just like that, the title is more credible and believable. And that means people are going to be more likely to click on it. in no time you'll be creating attention-getting blog post titles.
Step 3: "Copy" Successful Titles
The final step of this process is to "copy" successful titles.
Now heads up – this doesn't mean that you copy other good titles word for word. Not even close, unless you like accusations of plagiarism. Instead, what you do is look at other titles across formats and across different niches and use these titles as inspiration for your own titles.
Here's what I mean by across formats. You can look at the following:
• Social media posts.
• Headlines on sales letters.
• Advertising in magazines, online, and elsewhere.
• Email subject lines.
• Titles on blog articles.
• Titles in niche magazines.
Basically, look at titles and headlines both online and offline.
You can find inspiration anywhere and everywhere. If you clip and save these titles (perhaps using an app like Evernote.com), you can then create a swipe file.
TIP: Until you've built your own large swipe file, you might also consider purchasing a swipe file, or even using a set of templates to create titles. One good example of this is to use the template set from a site like 3MinuteHeadlines.com and their 245 Eye-Grabbing Headline Templates. 
What you'll do then is to open your swipe file or template file whenever you need to be creating attention-getting blog post titles, and tweak the title to match your needs.
If you used the steps and tips you just learned, then you should be able to easily come up with several really good titles. But the question is, which one should you choose?
---
---
"One thing we should all know by now is that scarcity sells!" Anything with scarcity on it, be it a squeeze page, sales page, product review, will get more engagement if it has scarcity. Because of this I decided I wanted to bring scarcity to my blog. So I started looking for a WordPress plugin […]
Affiliate Declaration: We like to be totally open about the fact that this website is supported financially by Affiliate Links. If you buy any product we may receive a percentage as an affiliate payment. Should you be concerned that our reviews and descriptions be biased by this fact we would like to reassure you that all the products we recommend are always ur honest opinion, used and tested by us or our partners to comply with a high standard of value. That we can make no undertaking that should you buy any product it will bring you value or make you a profit, is simply due to the fact that we don't know you. Every buyer is different, has a different level of skill in using a product and will apply the product in a different way.