ZOEKMACHINE OPTIMALISATIE
Wij maken gebruik van zeer actuele zoekmachine optimalisatie programma's voor de beste website indexering.
Deze programma's worden dagelijks geoptimaliseerd en zorgen voor de betere vindbaarheid van de website.
Uiteraard gebruikersvriendelijk en goed toepasbaar.
De juiste Keywords zijn noodzakelijk voor zoekmachines en ranking.
GRAFISCHE PROFESSIONALS
Elke professionele website moet aan de vereiste grafische normen voldoen.
Wij bouwen websites met de juiste grafische inkijk en optimale presentatie.
De verhoudingen tussen beeld en woord is vakwerk van de professional.
Het imago staat of valt in deze professionele setting. 
CONTENT MANAGEMENT
De inhoud – Content – zelf onderhouden – Management – is met CMS WordPress, met de juiste voorlichting, goed zelf uit te voeren.
Wij realiseren de website en zorgen voor correcte informatie om uw personeel de website te laten  onderhouden. Als dat gewenst is.
Een professionele website valt of staat met dagelijks onderhoud.
A1DESIGN De ervaring maakt het verschil.
---
---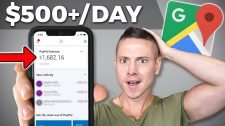 Wondering, "How Do I Make Money Using Google Maps?" or "How Do Live Streamers Make Money Using Google Maps?" If so, I've got an awesome video for you. This video will teach you how to make money on GMB with basic SEO in 2022! Welcome to my site. Your author for this article is Steve […]
Affiliate Declaration: We like to be totally open about the fact that this website is supported financially by Affiliate Links. If you buy any product we may receive a percentage as an affiliate payment. Should you be concerned that our reviews and descriptions be biased by this fact we would like to reassure you that all the products we recommend are always ur honest opinion, used and tested by us or our partners to comply with a high standard of value. That we can make no undertaking that should you buy any product it will bring you value or make you a profit, is simply due to the fact that we don't know you. Every buyer is different, has a different level of skill in using a product and will apply the product in a different way.